Best Construction ERP Software for Builders & Contractors Dubai, Sharjah, Ajman, Ras Al Khaimah, Al Ain, Abu Dhabi, UAE

ERP FOR CONSTRUCTION & CONTRACTING INDUSTRIES DUBAI, UAE
BraisphereIT is one of the leading Construction ERP software developing companies in Dubai, Sharjah, Ajman, Ras Al Khaimah, Al Ain, Abu Dhabi, UAE and other GCC countries. Being one of the biggest ERP software developing companies in Dubai, UAE, BrainsphereIT offers unmatched experience in ERP software implementation and after sales support to all levels of customers. In the community of ERP software companies in Dubai, UAE, BrainsphereIT holds the credibility of most trusted ERP software partner in the region.
Modern Business scenarios of Construction and contracting industry requires in-depth information, transparency and pin-pointed accuracy in data collection and analysis to manage their business with planned profit. To achieve these goals, the companies are required to equip with advanced industry specific ERP Software. BrainsphereIT is the leader in providing state-of-the-art ERP software solution for Construction & Contracting companies in Dubai, Sharjah, Ajman, Abu Dhabi, Ras Al Khaimah, Al Ain, UAE and other GCC countries. This wonderful package has a brilliant track record of 16 years in the field of construction which has extended its way across the country due to its efficiency and effectiveness. The package contains modules for controlling all the business aspects of building industry with central data repository to administer multiple projects with ease and efficiency. The simplicity and easiness amaze the users as they see the complex building management problems reduced to a few clicks on the key board.
From lead generation to conversion and client management, our ERP software covers the complete life-cycle of a typical Construction project. The software provides the facilities of project costing classified in different segments and divisions, estimation of jobs, financial management- in short, the complete financial reporting in single solution. Decision taking becomes easy with this analytical software which saves time and enhances management efficiencies.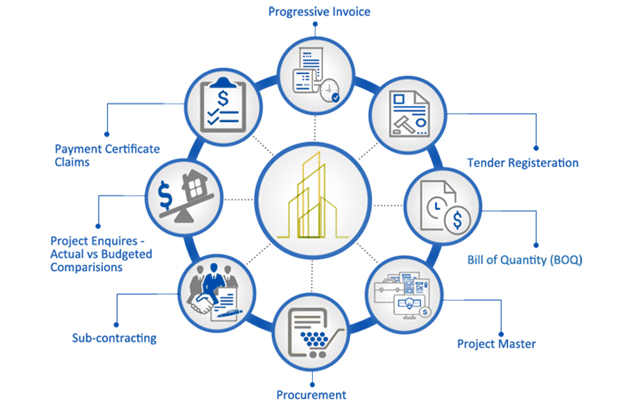 ERP SOFTWARE SOLUTION FOR CONSTRUCTION INDUSTRY IN DUBAI, SHARJAH, AJMAN, RAS AL KHAIMAH, AL AIN, ABU DHABI, UAE
Our ERP software solution facilitates multi warehouse and multi-location (Project Locations) storage, material issue, material transfer and material return. Also helps to track the material consumption accurately and gives the real-time warnings & alerts to respective departments on the consumption of material, if there is any changes from the budgeted quantity.
The in-built advanced local labour low compliant HR & Payroll management module facilitates to allocate and track the labour force accurately, especially project wise. Duty roster, daily online and offline tracking of attendance (Project wise), OT calculation, attendance regularization, loan/advance management, leave management, annual leave management, terminal settlement, ESS (Employee Self Service Portal), Integration with time & attendance punching machine are the key features of standard system. The software also provides additional modules like, Recruitment module, Training module, Accommodation module, Appraisal Module, Transportation/Vehicle management, Health & Safety module, Petty cash management module and Employee group Insurance module. This facilities helps the contacting companies to manage their labour force effectively.
Other important requirements of this industry are the fixed assets management and vehicle allocation management for projects. Our solution offers adequate facilities to track these functions as part of our ERP software for Construction and contracting businesses. This gives accuracy in tracking assets and its allocation. Also it facilitates to invoice, based on the usage and charges mentioned in the contract. Maintenance and cost allocation tracking, helps to maintain and keep this assets healthy and available as per requirements. Also provides the information about the viability of assets to maintain. Based on these information, management can take the decision to keep, scrap or sale of these assets.
Well-designed in-built workflow management of our ERP software gives maximum control over every transaction and makes sure that accountability and the authorization of responsible persons for all transactions. The workflow rules can be configured as per customer's specific requirements.
Being a well experienced and credible software developing company in Dubai, UAE, we have introduced most of the best business practices in our ERP solution to suite the current and future requirements of each industry verticals.
REQUEST A DEMO
Construction ERP Core Modules are:
Financial Accounting
Sales Management
HR & Payroll Management
Financial Budgeting
Fixed Assets Management
Sub-Contracting Management
Procurement Management
Contracting Management
Alerts & Notifications
Inventory Management
Vehicle Allocation
BI Reporting Tool for Analysis
CONSTRUCTION ERP SOFTWARE PROVIDER COMPANIES IN DUBAI, UAE
It is really a bit challenging to use ERP system in construction work other than manufacturing and health sectors. Since, businesses have found few cases of failure regarding ERP in construction industry, therefore, special priority has been given to the factors contributing towards successful & easy ERP implementation in this industry. Unfortunately, nowadays, architect & engineering sectors has encountered various difficulties in meeting defined specifications, budget schedules and other project requirements. Therefore, in today's technological environment, use of external as well as internal resources should be done very carefully & skillfully for getting positive business results.
Construction ERP software Dubai, UAE  is the one-step & easy process which results in maintaining information regarding cost of projects, productivity and revenue generation. Many companies are taking advantage by implementing ERP system for better and systematic integration of their business. Using this system will definitely save the precious time of enterprises, as it itself maintain and generate purchase orders, contracts & subcontracts, creating the latest jobs and other information simultaneously.