Manufacturing ERP Solutions Dubai, ERP for Manufacturing Industry Dubai, UAE
Are you looking for the Best Manufacturing ERP Software in Dubai or Top Manufacturing ERP Software Provider Companies in Dubai, UAE? If the answer is yes, then this is the right place to be in. It seems somehow difficult to manage different processes in any company especially in manufacturing industry. The companies that are not using any software experience difficulty in customization and impart negative impact on company revenue. The business challenges can be reduced by customized ERP software. There are a number of companies that offer Manufacturing ERP software in Dubai, Abu Dhabi, Sharjah, Bahrain, Qatar and UAE. at affordable cost. The successfully implemented ERP software manages business growth, reduce manufacturing cost and streamline all the processes. It integrates all working system in to a single data base and delivers real time business oriented result.
GET THE BEST MANUFACTURING ERP SOFTWARE IN DUBAI, UAE - BRAINSPHERE IT SOLUTIONS
Brainsphere IT Solutions in one of the largest ERP Software Development company in Dubai, UAE. Serving more than 16+ years for 500+ clients in UAE with 60+ certified ERP Software engineers in Dubai. Brainsphere IT Solutions has built a world class Manufacturing ERP Software in Dubai, UAE. We have helped Manufacturers to streamline their business operations and handle the bottle neck more efficiently to growth, while being more flexible and scalable as per market demand.
As leading Manufacturing ERP software solution provider in Dubai, Sharjah, Ajman, Ras Al Khaimah, Al Ain, Abu Dhabi, UAE and Middle East, we have done hundreds of ERP Software implementation for Manufacturers. Our Manufacturing domain expertise and large pool of Software Engineers makes us the biggest ERP software development company in Dubai, UAE. Our incomparable experience in ERP software implementation and customer support directly from Dubai has made us the reliable and most trusted ERP software partner in UAE.
High competition and current market situations needs in-depth data with greater accuracy to make informed decisions. Also, companies need to enable the smooth communications across all the departments with an advanced industry specific ERP Software. With 16+ years of experience BrainsphereIT is the Middle East market leader in providing the proven ERP software solution for Manufacturing companies in Dubai, Sharjah, Ajman, Abu Dhabi, Ras Al Khaimah, Al Ain, UAE and other GCC countries.
From raw material procurement to finished goods sales, our ERP software handles the complete lifecycle of manufacturing company. In built Business Intelligence (BI) tool and Key performance Indicators (KPI) tool will enable the management to make informed strategic decisions at the right time. Our ERP software solution facilitates multi warehouse and multi-location storage, material issue, material transfer and material return. Also helps to track the material consumption accurately and gives the real-time warnings & alerts to respective departments on the consumption of material, if there is any changes from the standard BOM (Bill of Material).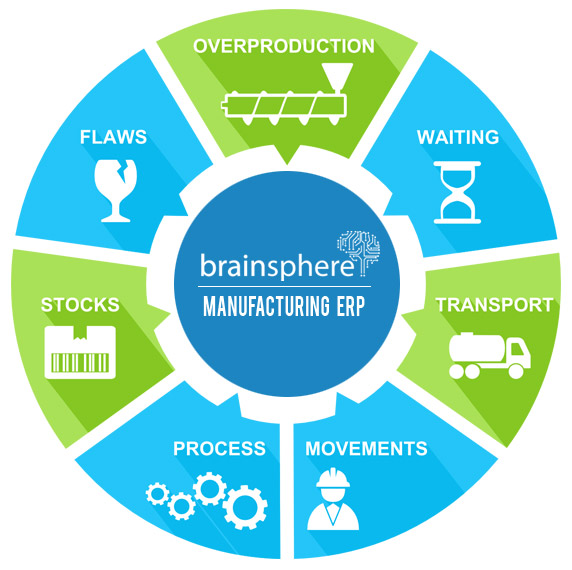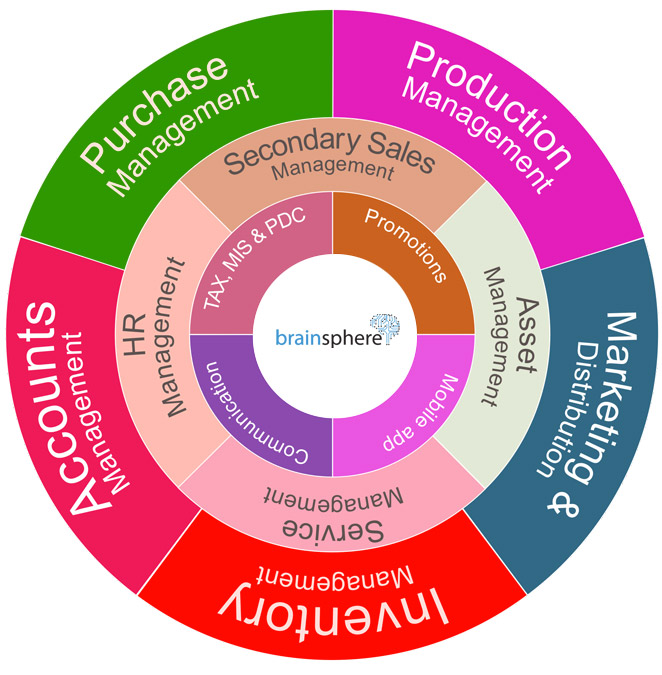 BRAINSPHERE ERP SOLUTIONS FOR MANUFACTURING INDUSTRY IN DUBAI, UAE
It is very difficult to produce top quality product on time, every time for manufacturing companies. Skilled labour shortages, economic fluctuations and market governance are some complexities experienced by manufacturers every day. Striving to reduce costs and increase profitability while remaining competitive is no easy task. Manufacturing software, or ERP software, must meet these needs and have the ability to anticipate the future needs of today's agile manufacturing environments.
The manufacturing ERP software Dubai is a comprehensive solution for any industry that enables the organizer to plan, schedule, execute, and monitor your entire manufacturing business. From raw materials to final product, our manufacturing ERP provides the greatest level of flexibility and agility possible.
The in-built advanced local labour low compliant HR & Payroll management module facilitates to allocate and track the labour force accurately. Duty roster, daily online and offline tracking of attendance, OT calculation, attendance regularization, loan/advance management, leave management, annual leave management, terminal settlement, ESS (Employee Self Service Portal), Integration with time & attendance punching machine are the key features of standard system. The software also provides additional modules like, Recruitment module, Training module, Accommodation module, Appraisal Module, Transportation/Vehicle management, Health & Safety module, Petty cash management module and Employee group Insurance module. This facilities helps the contacting companies to manage their labour force effectively.
Other important requirements of the manufacturing industry are the fixed assets management and Supply chain management. Our solution offers adequate facilities to track these functions as part of our ERP software for manufacturing businesses. Also provides the information about the viability of assets to maintain. Based on these information, management can take the decision to keep, scrap or sale of these assets such as machines, vehicles etc..,
Supply chain management helps to manage the distribution of raw materials to production floor and from manufacturers to end consumers. Poor supply chain management practice  directly affects the manufacturing companies such as delay of raw material from supplier to production floor, finished goods from warehouse to distributor or retailers. Our supply chain management features helps the manufactures understand how supply chain management affects the company and help the managers to streamline the operations more efficiently. Well-designed in-built workflow management of our ERP software gives maximum control over every transaction and makes sure that accountability and the authorization of responsible persons for all transactions. The workflow rules can be configured as per customer's specific requirements.
VAT READY ERP SOFTWARE FOR MANUFACTURING COMPANIES IN DUBAI, UAE
Since ERP Software has become inevitable thing in the current business scenario we have custom developed several ERP Solutions in Dubai that address each industries specifically irrespective of the size of the company. Fully integrated VAT compliant ERP Software in Dubai, UAE enables small and mid-size companies to operate more efficiently and effectively. Increased competition has made the businesses to go more aggressive on the pricing to capture market share, which requires greater attention on unit economics.
Our Manufacturing ERP is a specialised VAT ready ERP Software developed by the proficient team at Brainsphere IT Solutions. Ideally designed for Manufacturing Companies in Dubai, UAE to offer ease of doing business, this software assists in the integration of all the business process. Right from helping in the Production Planning Control Cycle of the manufacturing firm, to proving as a dependable aid in sales, purchase, inventory management, production, accounts and other primary and auxiliary functions, this software does it all.
Brainsphere IT Solutions ERP Software is meticulously designed to meet the needs of all process driven Manufacturing Setups, with an aim to increase operational efficiency and eventually improve the production capacity. The software comprises of an integrated program that makes use of a single database, thus reducing redundancies while allowing various departments to share and exchange information in a seamless manner.
For all you know, Brainsphere ERP Software can prove to be much more than a software, it is essentially an industry-specific Management Tool, that can help you increase your profitability by reducing costs, streamlining your business processes and fulfilling the distinct requirements of your manufacturing business. Trust us, this is one investment that will not only pay for itself but will also help your business achieve greater heights of success.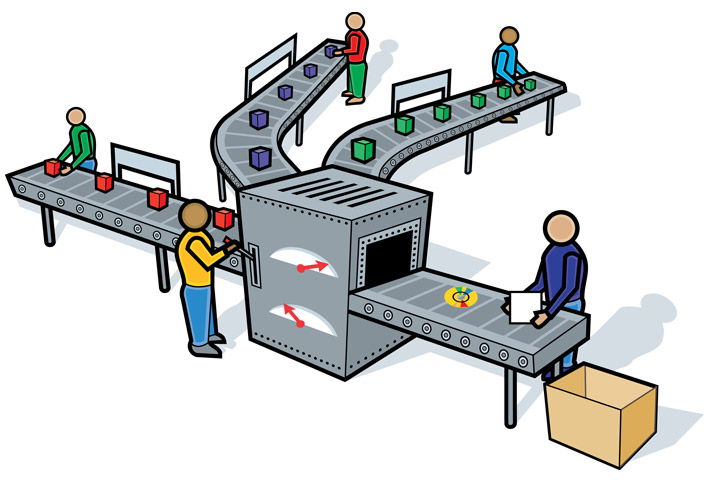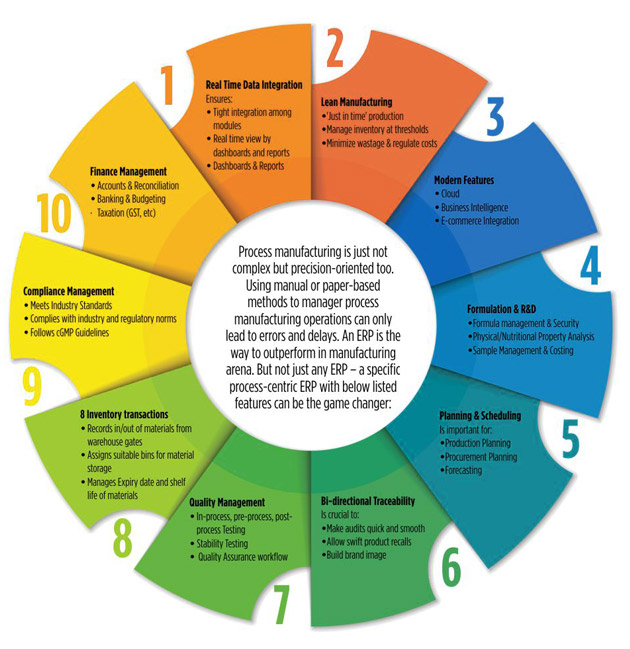 BENEFITS OF MANUFACTURING ERP SOFTWARE
INCREASE EFFICIENCY
It is very necessary to manage entire functions in any manufacturing company Dubai, UAE to drive profitable results. The manufacturing ERP manages the whole system through a single system that results reduction in resources and time thus enhance efficiency of manufacturing system.
ELIMINATE UNNECESSARY DOWNTIME
Earlier, the entire functions involved in manufacturing company were time consuming and too much lengthy. It was very difficult to keep all functional records. But, the manufacturing ERP has made it much easier and enables the user to manage entire functions easily in very short period of time.
ENHANCE MANUFACTURING PRODUCTION AND PERFORMANCE
The manufacturing ERP not only enhances the efficiency of production in the company but it also produces the products of high quality. This is possible only because each and every function involved in production managed with keen observation.
IMPROVE SUPPLY CHAIN VISIBILITY
Manufacturing ERP integrates various functions involved in company in to a single system. Thus, it provides transparency and clear visibility in working system. This software assigns the tasks in various modules which are associated with each other.
MANUFACTURING ERP CORE MODULES ARE:
Financial Accounting
Sales Management
Batch Control
Procurement Management
Fixed Assets Management
HR & Payroll Management
Inventory Management
Production Management
Alerts & Notifications
Work In Progress (WIP)
Barcode Module
BI Reporting Tool for Analysis
To request for a Manufacturing ERP Demo or more information
on our products... Call : +971 5 26403909, +971 4 3529915